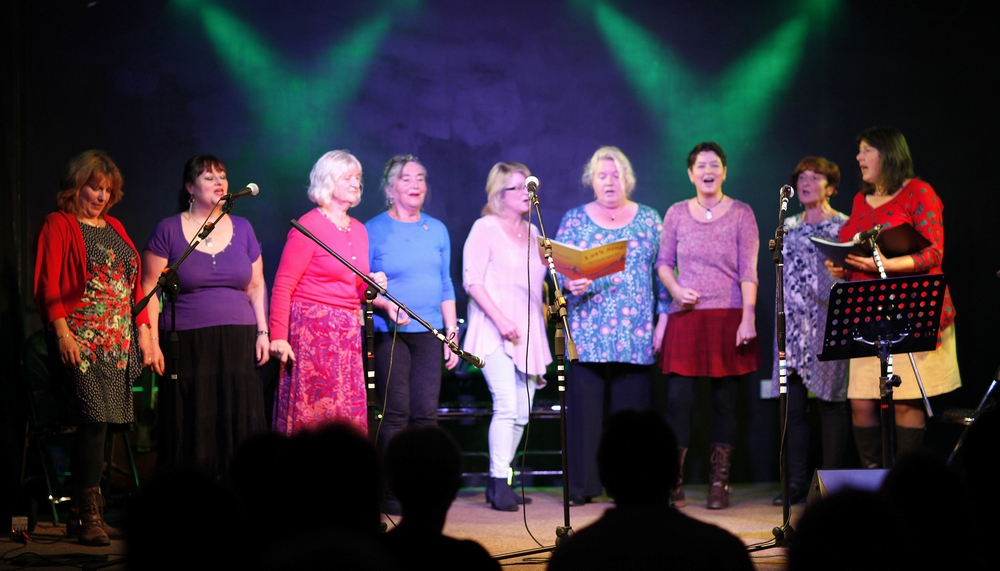 Sing The World is a Newbury-based a capella community choir, which has been running successfully now using Natural Voice principles for over a decade. We meet twice monthly on Monday evenings from 7.30pm – 9.30pm at Speen Parish Hall in Newbury, singing music drawn from a wealth of singing traditions from throughout the world. As we mostly teach songs by ear, to join us you don't need to be able to read sheet music and there are no auditions – complete beginners and experienced singers are equally welcome. We aim to make our sessions uplifting, energising and inspiring – just come along and enjoy the harmonies!
Our autumn-winter 2015 term has gone well, with our performance group Wacapella singing at Newbury Unplugged (Ace Space, pictured above) and also as part of the festive 1,000 Voices event in Newbury town centre. We also continued to raise donations through singing for in the Ebola: Call and Response singing project, donating over £300 to charities supporting West African communities hard hit by the Ebola outbreak. You can watch our choir singing 'Ise Oluwa', a beautiful Nigerian song: see our video on YouTube.
Our new winter-spring term starts on Monday 11th January 2016: if you'd like to join us then try a free introductory taster session (normal cost per session is £5). For this term's session dates and more info see our Sing The World community choir web page, or download our current term's poster and choir information handout (see sidebar to right).
Feedback from our choir members:
"Makes me feel good – thank you!"
" I enjoy Sing The World very much! I think all the songs are fab,
and they are all well taught."
"Very rewarding and absorbing. Amazing technique and great people!"
"It is simply life-affirming – wonderful."
We also host regular Saturday singing workshops which attract 30 – 60 participants, so don't miss your chance to book for our next full day singing workshop in May 2016 with Tessa Hall. See our Singing Workshops page for more details, or contact us by email to book your place.
Last but not least, Sing The World also has a performance choir, Wacapella: if you are interested in performing with us then take a look at our Wacapella web page or get in touch by email for more information.